Utility Paring Knife
$64.95
Save $0.00 off the regular price
Pair it with the Cleaver Knife
Introducing our ultra-versatile, meticulously handcrafted Utility Paring Knife, perfectly balanced to help you multi-task in the kitchen. Long enough for most tasks, yet short enough for intricate handwork, it's curved to help you cut, chop and slice every ingredient like butter.  
The making of this knife came from a request from our Recipe Development Team: we were on a quest for the 'perfect' knife for those everyday kitchen tasks to help "make prep effortless". After months of research and development, we finalised the design for this Utility Paring Knife, marrying the precision of a paring knife with the strength of a utility knife. But the design was only part of it. The materials and the actual making of the knife all play their part. We wanted the best of both worlds – marrying elements of Chinese, Japanese and European knife-making traditions to create an elegant, razor-sharp knife that lasts.   
Painstakingly hand-crafted, the blade of our Utility Paring Knife is cut from Japanese-made AUS-8 high-carbon steel for optimal strength, rigidity, durability and chopping board performance. It's easy to sharpen, and is highly stain-resistant for easy maintenance. Not only that – our knives go through no less than 16 stages of preparation in the hand-making process to ensure superior performance and quality guarantee. We mean it when we say this isn't just any knife.  
We put just as much sharp thinking into the ergonomic micarta resin handle to give you complete confidence and comfort in your grip. The easy-to-clean handle perfectly fills the palm and feels smooth to the touch, but actually becomes grippier when wet. And, see the angled top edge of the handle and file pattern etched into the stainless steel blade? They'll give your thumb and index finger an extra-secure pinch-grip as you cut, chop and slice every ingredient like butter.   
Paired with our Cleaver Knife, they'll become your new favourite knives in the kitchen. 
Key Features
Meticulously hand-crafted from Japanese made AUS-8 high carbon steel
A Utility Paring knife that effortlessly cuts, chops and slices every ingredient like butter 
Ultra-versatile with a perfectly curved and balanced blade for multi-tasking
Ergonomic, non-slip handle made from micarta resin for confident and comfortable grip
Easy care and sharpening for long-term knife use
Minimalist design with stylish white handle which is easy to clean
Custom-designed to allow for intricate knifework and larger cuts
Utility Paring Knife length 20.3cm
Utility Paring Knife blade width (widest point) 2.4cm
Utility Paring Knife blade length 14.5cm
Utility Paring Knife handle width (widest point) 2cm
Washing
To maintain the condition and food safety of your stainless-steel utility paring knife, we recommend handwashing your knife with a soft cloth, and mild, soapy warm water. Always dry your kitchen knife with a tea towel and avoid harsh chemicals, detergents, scrubbing pads or metal utensils. Do not put your knife in the dishwasher.
Sharpening
Sharpening your utility paring knife is easy due to the high carbon-steel material. We recommend our Tabletop Knife Sharpener for regular, light honing, to help maintain the edge on your knife. When working with the knife, use a Wooden Cutting Board to help maintain the sharpness and longevity of your blade.
Meticulously hand-crafted to make prep effortless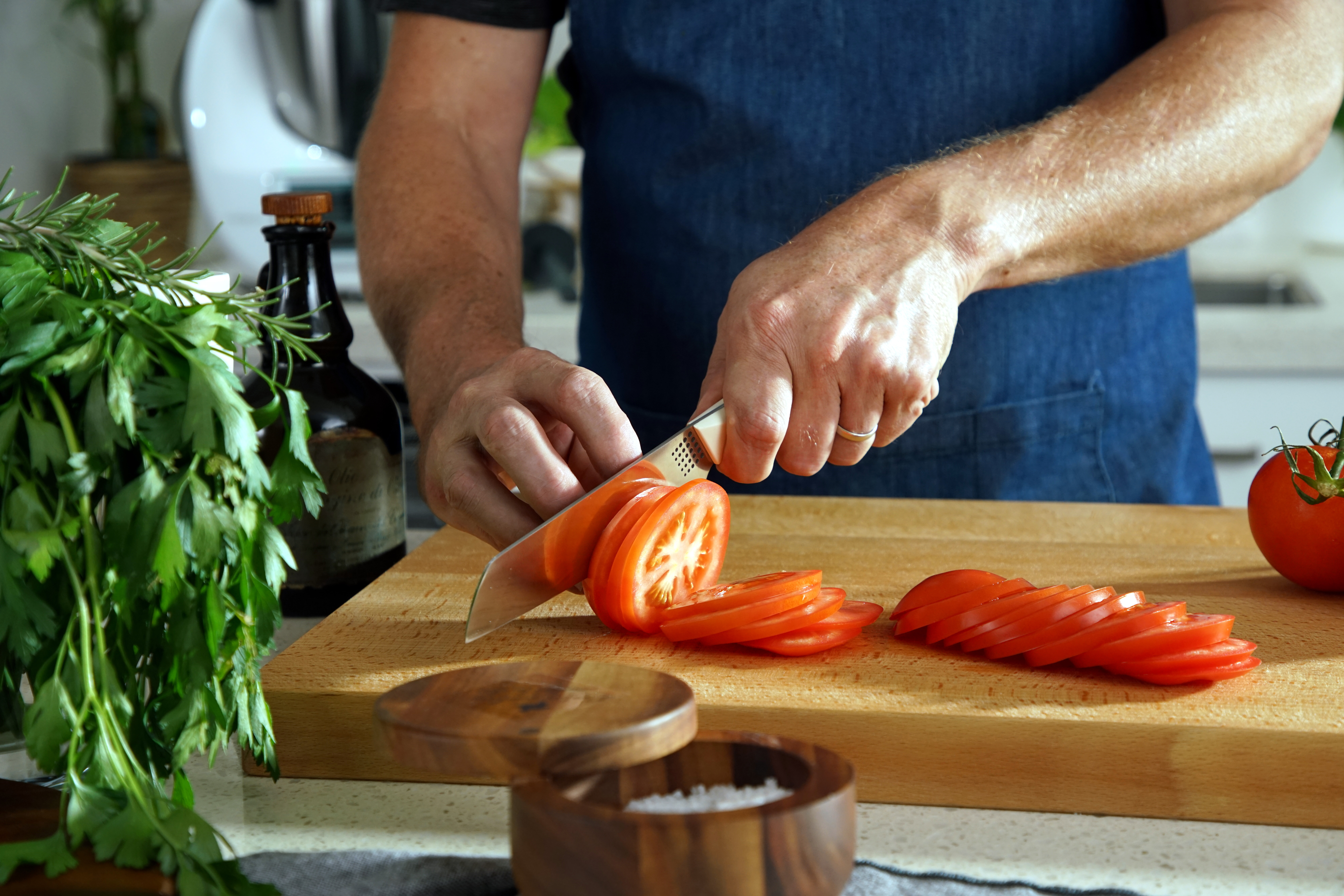 Superior Performance
Japanese, AUS-8 grade high-carbon for optimal strength, rigidity and durability. It also makes caring for your knife super simple.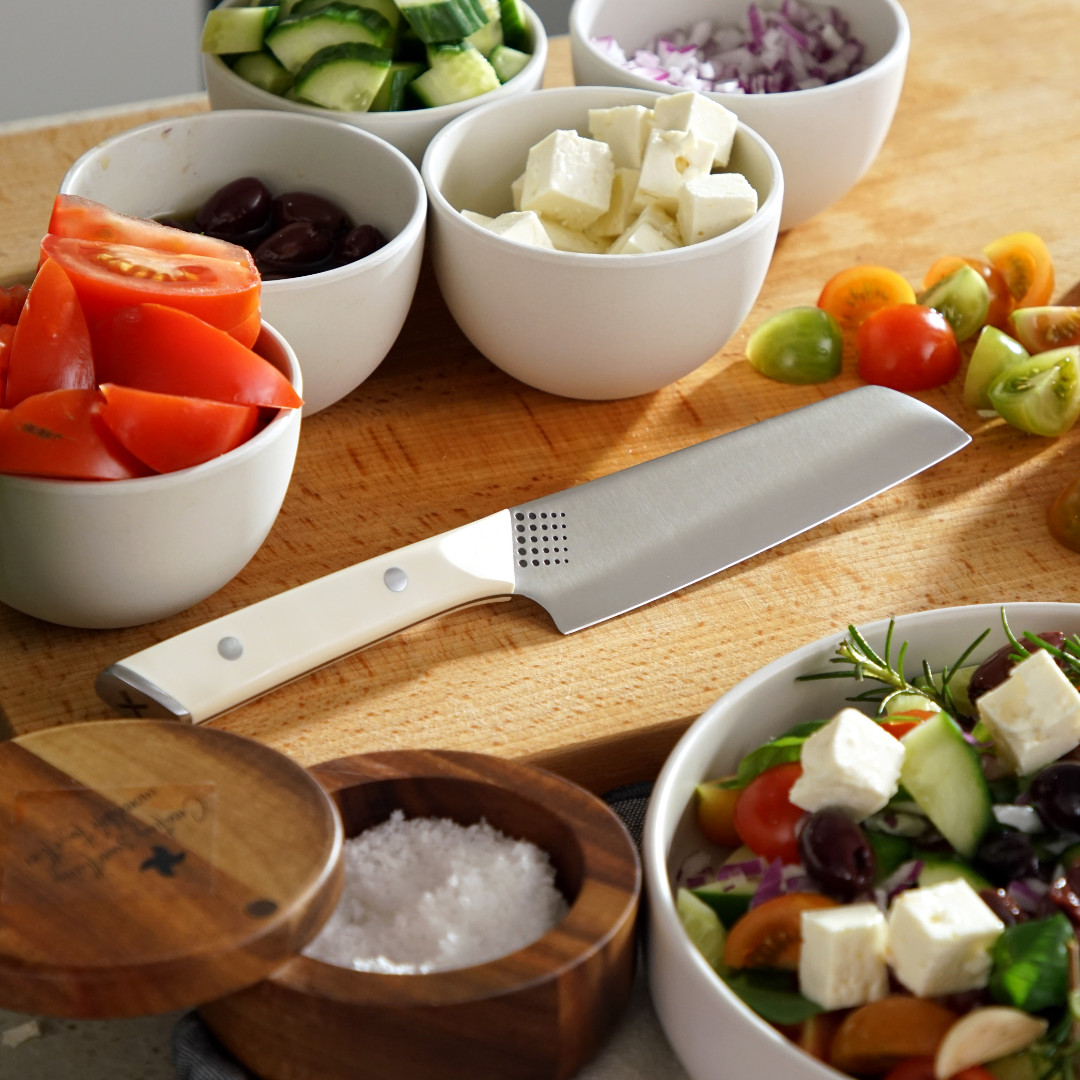 Ergonomic design
Our micarta handle is both stylish and smart, helping the Utility Paring Knife sit comfortably in your hand.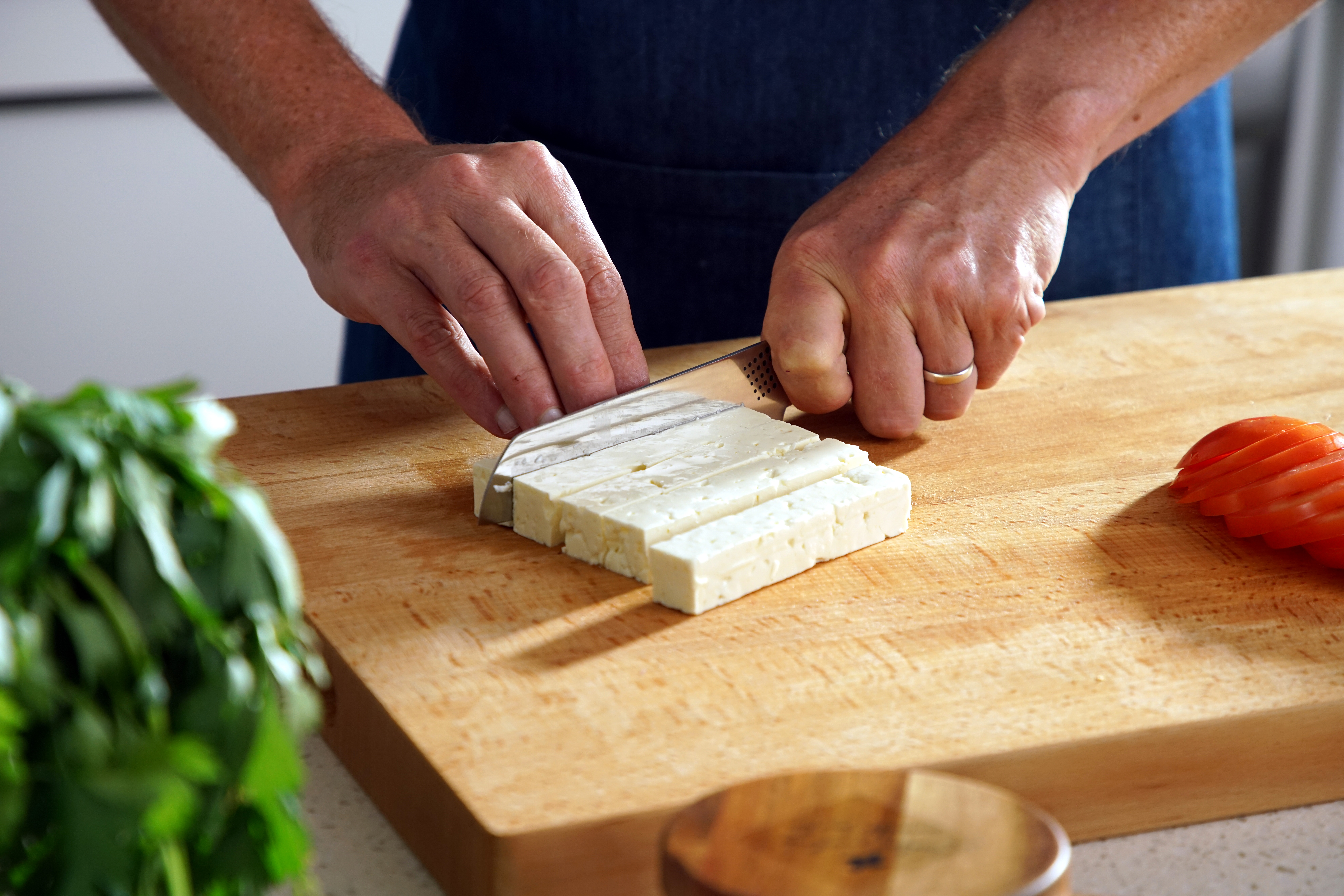 Versatility of use
You'll love our Utility Paring knife for chopping, cutting and slicing through ingredients like butter.
Tour the Utility Paring Knife
Best kitchen knives for you
Click through to our guide to discover the best kitchen knives for you.

Read the blog
Effortlessly prep these recipes