Become a Thermomix® Consultant
Turn your passion, into a profession
Love cooking and looking for that next new opportunity to follow your passion and do something you truly enjoy? Well, you've come to the right place. Discover how you can become a Thermomix® Consultant and make a positive impact on people's lives – starting with yours.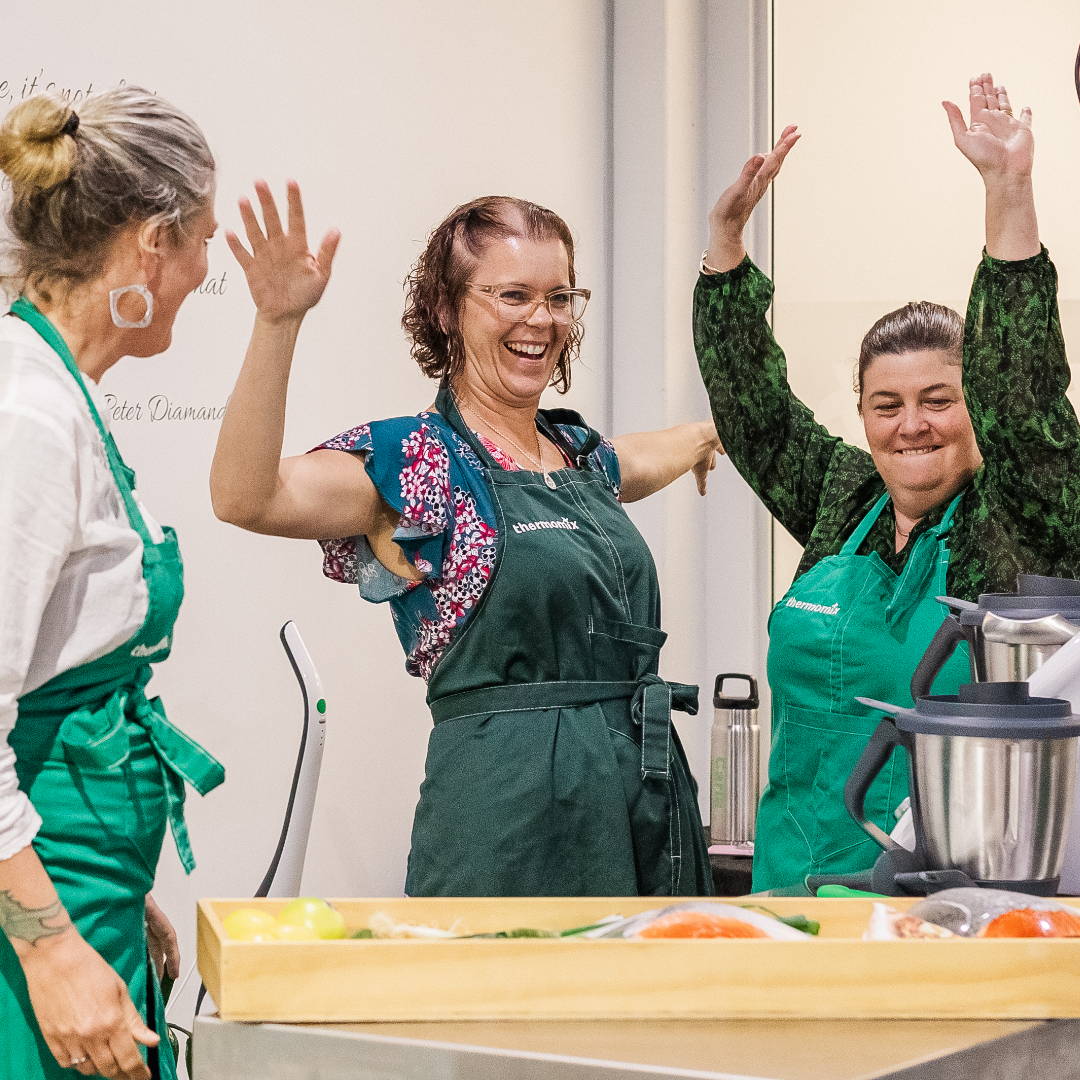 We're a People First organisation. Whether you're a Consultant, customer, or member of our in-house team, you're part of our family! Together, we can create something incredible through your Thermomix® business.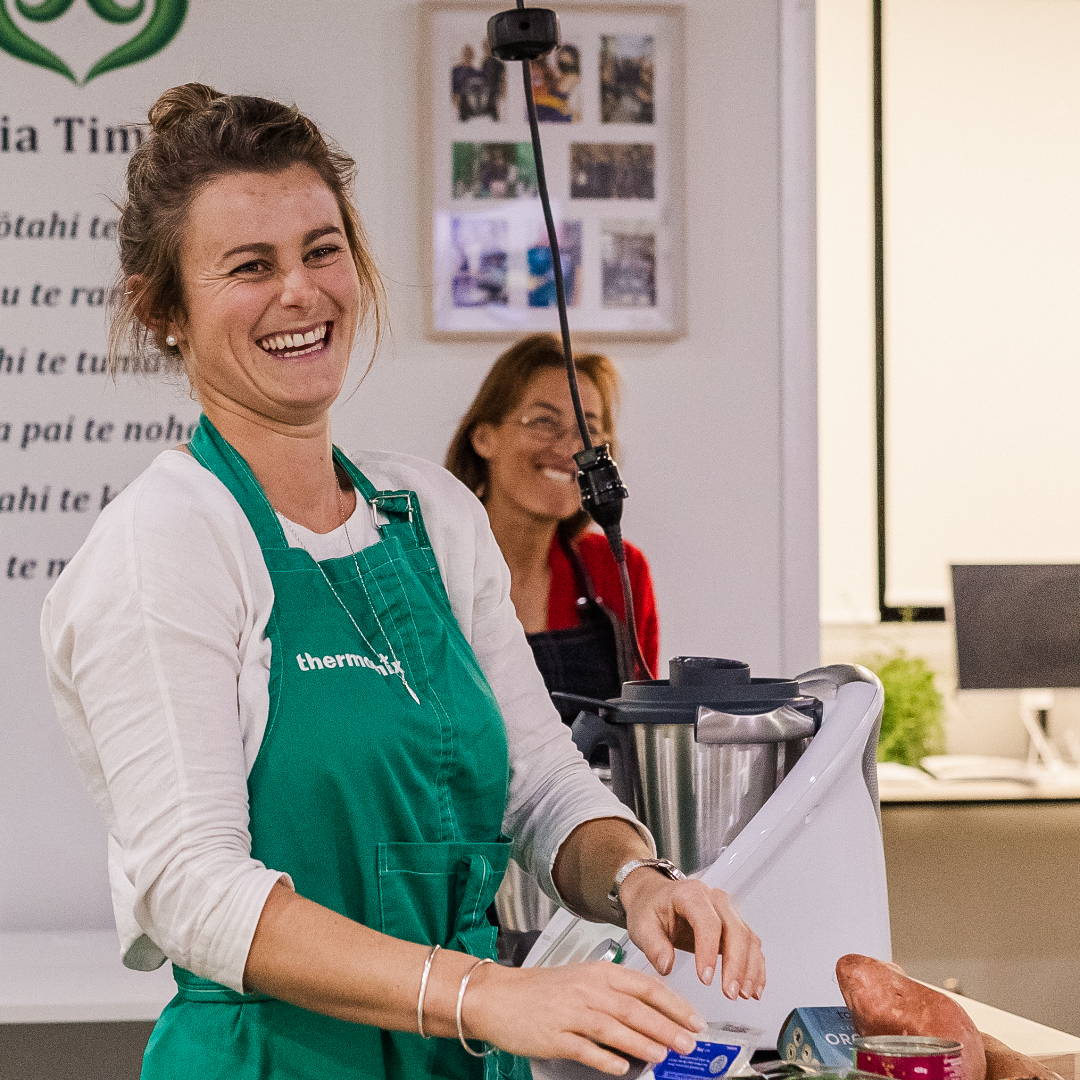 Rewarding income & recognition

By doing what you love, you'll be rewarded through a generous commissions structure plus incentives, exclusive product benefits and once-in-a-lifetime opportunities.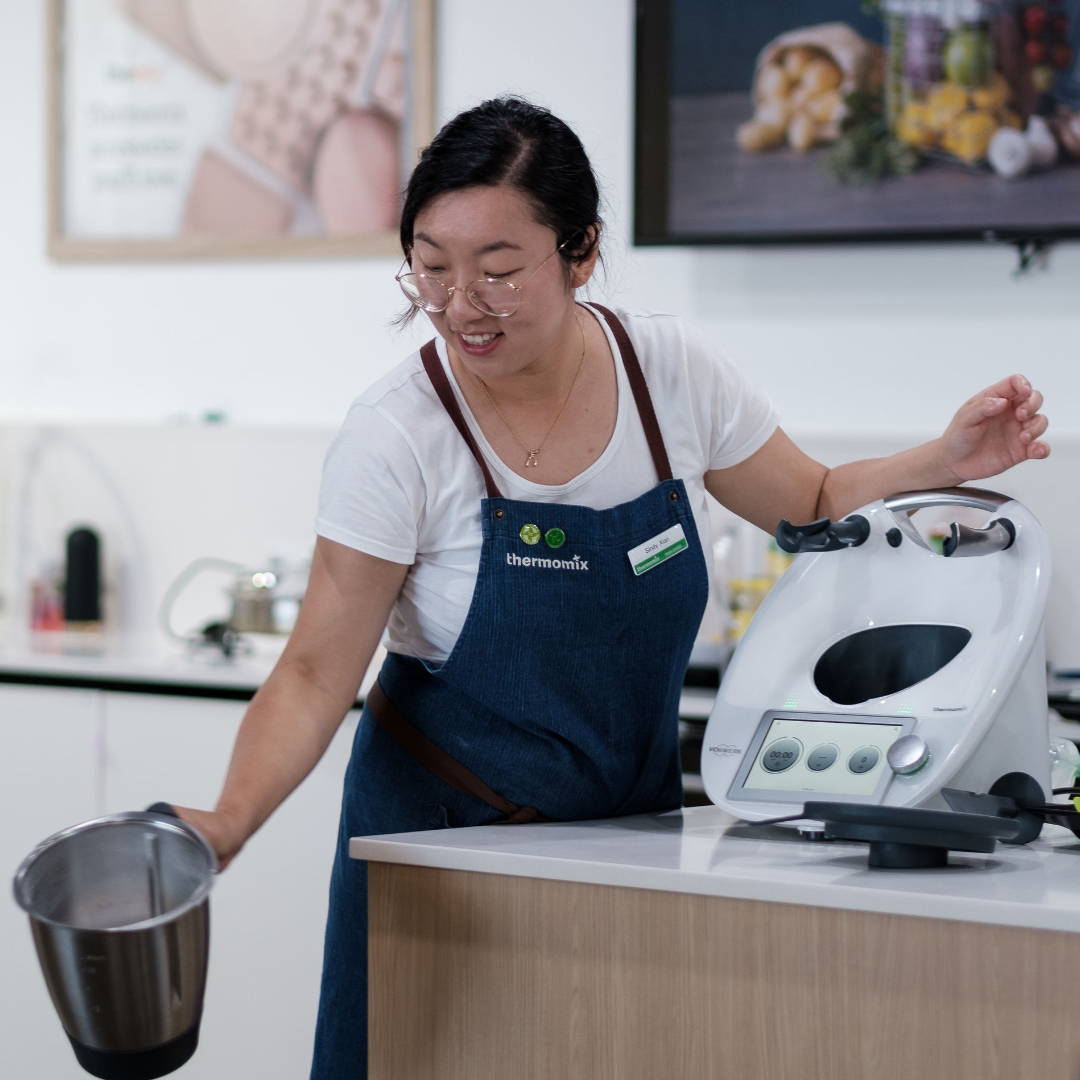 Ongoing support, training and personal and professional development are all part of the journey. With your own Thermomix® Team Leader, you'll be empowered to run your smart, connected business.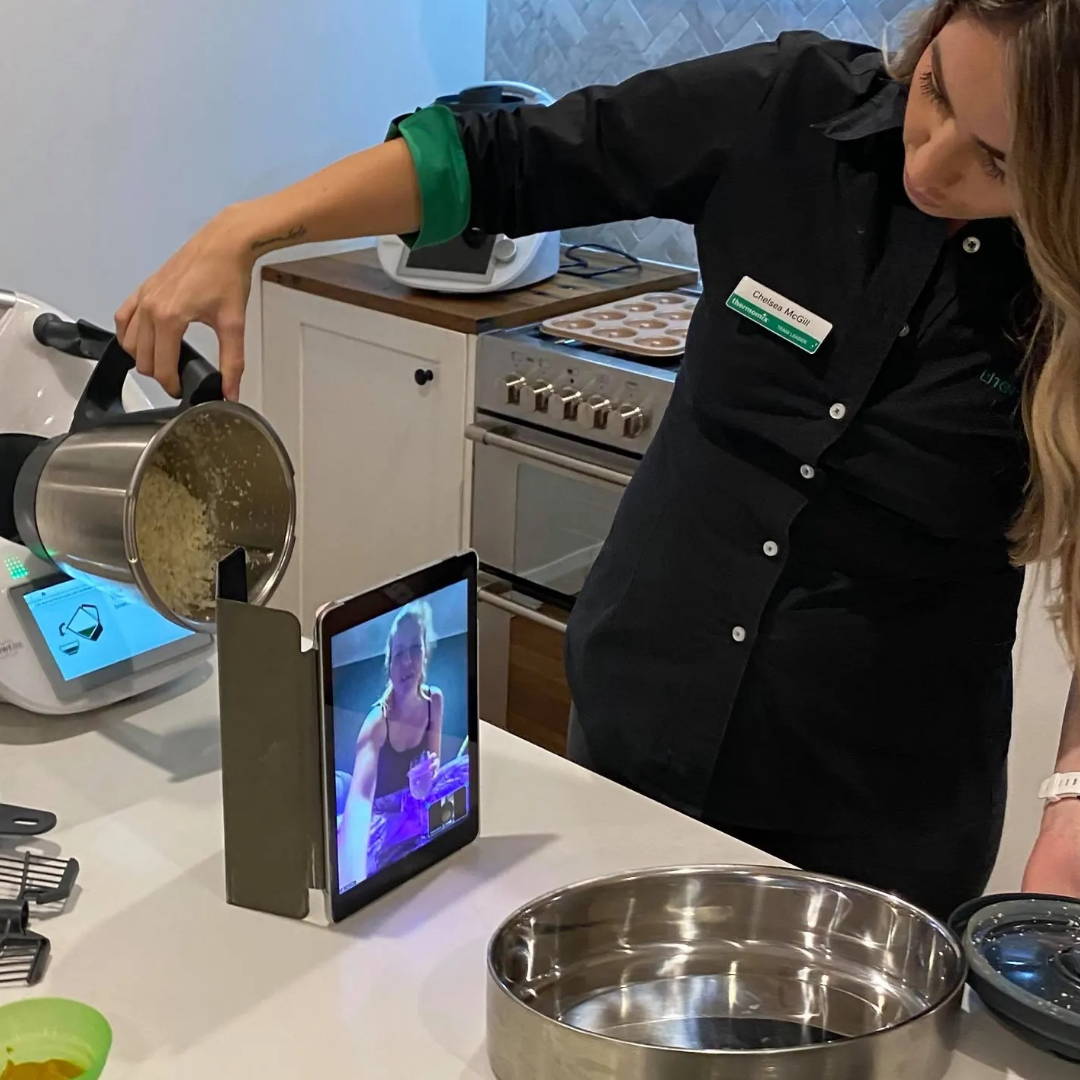 You have the flexibility to build your business face-to-face, virtually or both - the choice is yours! You'll be working around your commitments and lifestyle, to work smarter, not harder.
Get your Business Kit for half price and get your side hustle started!
As a Consultant, you'll run your own in-person or virtual demonstrations and support customers throughout their journey. How you scale your business is up to you - the sky's the limit! We'll support you to build a business plan that meets your needs - whether you're looking for a side-hustle or full-time business.
There are minimal up-front costs, and you don't need any prior sales experience! You'll have the opportunity to share your passion in-person, online, or both.
To get started, you simply need a Thermomix® and a Business Kit.
Don't own a Thermomix®? No problem! We believe that everybody deserves a Thermomix®, and with our EARN program you can own your very own. All you need is a deposit for your own TM6, and to purchase your own Business Kit.
Then simply inspire 6 people to buy a Thermomix® and your TM6 will be yours to keep.
What's in the Business Kit?
Your Business Kit will include everything you need to empower you to get your journey started. Your Business Kit will have resources to help you run cooking demos and inspire others.
You will learn how to best use all the tools during your training sessions, so you'll have the confidence to get started.
Gain world-class training
You don't need to have experience in sales or be the most confident public speaker to be a successful Thermomix® consultant. All you need is a passion to help others. Access to our world class training is included in the cost of your business kit, and the support of your Team Leader will help you personally develop your skills.
Training is conducted through TheMix Academy platform, where you can complete online learning modules in the comfort of your own home. You'll also gain real support by real people, through practical cooking experiences and business building sessions with your Team Leader. It's never been a better time to start.
The opportunities to develop continue past your initial 60 Day Program with ongoing professional development and amazing leadership opportunities.
Earn rewarding income, incentives and recognition
We reward you for doing what you love! By building your Thermomix® business and supporting your customers, you'll be eligible to earn fantastic incentives each month and access to exclusive classes and events.
Life-changing opportunities

You can make a meaningful difference to your life through our generous commission and bonus structure. We'll celebrate and reward you along the way too! As well as local opportunities, you'll also have the chance to join us at ThermoFest, a travel incentive celebrating and developing the skills of our top Consultants at the most amazing places around the world.
These once-in-a-lifetime opportunities are within arm's reach and will change your life forever.
Oh, there are so many things! But if we had to choose one, it'd be our culture which starts with our mother-daughter team at the helm, Grace and Bianca Mazur, who brought Thermomix® to Australia. 
A lot of organisations talk about values and being true to what they believe in, but it's the really special ones that put genuine importance on delivering on those promises. Watch our video to learn more.
Don't just take our word for it...
See success stories from our very own Consultants and discover how they Thermomix® has made a difference to their lives. 
"Do something you love and you'll never work a day in your life again - this for me encompasses how I feel about being a Thermomix® Consultant.
Being a stay-at-home Mum who could provide nutritious meals and a safe home for my family was my goal, however having a job/hobby that could not only fit in with that lifestyle but contribute financially was just a dream.
I took the step to become a Thermomix® Consultant 2 years ago, and that step was one of the best things I've ever done for my family, my mental health, my enjoyment out of life, my friendships with both consultants and customers, and more.
And the Thermomix®?

Well I appreciate advocating for a product that I utilise everyday myself, it involves food (everyone's got to eat) and I believe every household in New Zealand would benefit from having it in their kitchen."
- Rebecca Macnamara, Consultant
So, ready to join the Thermomix® family and start your life-changing journey? Get in touch with your Consultant or connect with us online and we'll be happy to take you on your journey.
There are several key milestones that you'll reach along your journey including: 
Signing your Consultant Application Form.
Completing the training program to set you up for success!
---
Still have a few questions?
Hopefully, you'll find the answer below.
How much can I earn as Thermomix® Consultant?
How much you earn with your Thermomix® business is a direct result of how much time you invest. By becoming a Thermomix® Consultant, you unlock commissions on both Thermomix® and TheMix Shop* items and can earn a rewarding income. Once you book in for a chat, we'll be able to share the entitlementss with you and explore your business goals together.
*T&Cs apply. Please reach out to speak with a member of our team to explore the details.
As a Consultant, can I get a discount off a Thermomix®?
The TM6 retails at $2499. As a Consultant you have the opportunity to EARN your Thermomix® TM6 – pretty amazing, we know!
What makes a good Thermomix® Consultant?
We don't require any particular credentials from our Consultants. Rather than qualifications per se, we're looking for people who align with our values. Come with an open mind and a willingness to learn.
Knowledge of the Thermomix® isn't a prerequisite either, as you'll soon become a pro by learning from us. If you don't already have a TM6, be sure to ask about your opportunity to EARN one (or a second one, if you already have one!) when we chat.
What's the initial outlay?
We're here to make sure you have everything you need to kick-start your business for success. When you join, you'll need a New Consultant Business Kit and also on the must-have list is our essential "tool of the trade" – a smart connected Thermomix® TM6. If you're not already a TM6 owner, that's OK – you can EARN one during your first 60 days in the business. Get in touch for more details on our EARN Program.
What if I don't own a TM6?
Well, then – we'll just have to get you one! There are lots of options for you to bag a brand new TM6 as part of your consultancy, including our EARN Program. And as a new owner, you'll also benefit from additional training with us, which will set you up as a Thermomix® expert in no time.
How much time do you have to spend on your business?
This is totally up to you and we will support you in developing a plan for your business. Establishing your business online or a mix of online and face-to-face is even more time efficient than ever before. The great news is your time is flexible, so there's plenty of opportunity to fit your business to your lifestyle.
What does a Thermomix® Consultant do?
This isn't a job, it's your own Thermomix® business, so the sky's the limit! That said, there's one thing that works for everyone, and that's showcasing Thermomix® in action. We know that the more you showcase Thermomix, the more lives you impact. And, in today's world of the online Thermomix® consultancy, it's never been easier to share Thermomix® from the comfort of your own home, while 'meeting' customers in the comfort of theirs.
What are the benefits of being a Thermomix® Consultant?
Oh, there are so many, so we'll list only a few here and we'll answer all your questions when we speak.
Self-satisfaction of running your own business
Flexibility
Support and Community
Learning new skills including becoming an expert Thermomix® superuser
Two income streams - Thermomix® and TheMix Shop*
Leadership opportunities
Professional, personal development and training
Additional rewards and incentives
*T&Cs apply. Please reach out to speak with a member of our team to explore the details.